Popular Bounce House Rental Waco Tx – Heart of Texas Party Rentals Launches New Inventory Page on Website
April 24, 2023 at 21:22
Waco, Texas -
Heart of Texas Party Rentals Waco, TX has announced the launch of a new page on their site dedicated to their expanding bounce house inventory. Heart of Texas Party Rentals is Waco's premier party rental supply. They offer a variety of bounce houses and jump activities for their clients, including combo bounce houses, character jumps, dry slides, water slides, interactive games and more. Company rep Jonathan Rocha says this new page will make it easier than ever for their customers to find the right jump for their party.
"Our inventory has almost doubled in the last few years, and it's important to let our customers know just what we have to offer," he says. "This new bounce house page on the website will help customers easily navigate the site and choose the bounce house that they want for their event."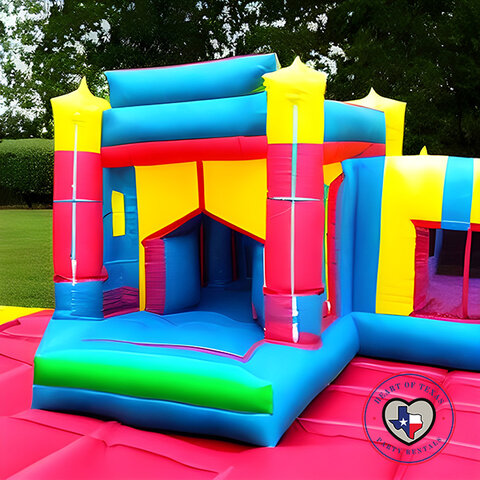 When it comes to bounce house rentals in Waco, Texas, Heart of Texas Party Rentals provides a diverse collection of jumps that can make any event unforgettable. Whether it's a birthday party, company event, graduation, family reunion, block party or anything else, finding the right bounce house is just one click away.
Beyond bounce houses, Heart of Texas Party Rentals also offer other party supplies to complete the event, such as tables, tents, plates, napkins and cutlery. Additionally, they have concession machines, including a snow cone machine and a margarita maker. These items can also be found on the website.
"We consider ourselves a 1-stop shop," says Rocha. "When clients shop at Heart of Texas Party Rentals, they won't have to spend their money anywhere else."
Bounce houses are popular for family events. They can be set up anywhere with grass, sand or dirt. Because the bounce houses rely on a blower, it is not recommended to set up bounce houses on rocks. Bounce houses should also be set up where stakes can be driven into the ground for support. Most bounce houses are 15 x 15, but some are so large, they can weigh up to 650 pounds. Clients should take measurements of their space before booking a bounce house to ensure it will fit. If the party venue is a park or picnic area, clients should bring their own generator (or rent one for a fee) because most parks do not have accessible electricity.
The website isn't the only place that's getting a refresh. Rocha says they've received more reviews on social media, where people can see real time photos of their bounce houses in action.
"Customers should follow our facebook page for updates and new releases," he mentions.
Throwing a party or event takes many moving parts. Rocha encourages clients to remove the stress by working with Heart of Texas Party Rentals.
"We make it easy and convenient. We do all the set up and all the break down. We'll leave your venue as perfect as it was when we found it," Rocha says.
Depending on the day, the set up team may arrive anywhere from 1 hour to 3 hours before the event. Base fees are based on 4 hour rentals, but clients can extend time for a fee. Once the time is up, the company will arrive promptly to disassemble. If there is any property damage, the client will be charged for a fee. However, normal wear and tear will not result in a fee.
"Much of our equipment costs thousands and thousands of dollars," Rocha warns. "We don't want any of our customers to have to fit the bill in case one of our jumpers is severely tarnished. This is why we offer advice and to-dos to keep the jump in tact."
If partying outside of Waco Tx, Heart of Texas Party Rentals can deliver. They serve neighboring cities for a delivery and gas fee.
Heart of Texas Party Rentals in Waco is proud to serve its southeast Texas residents. Visit their website, or contact Jonathan Rocha directly by phone at (254) 218-1106 or by email at heartoftexaspartyrentals@outlook.com.
###
For more information about Heart of Texas Party Rentals, contact the company here:

Heart of Texas Party Rentals
Jonathan Rocha
(254) 218-1106
heartoftexaspartyrentals@outlook.com