Outdoor & Summer Toys Available At Cyprus Toy Store
June 14, 2022 at 16:22
Cyprus based ToyShop is inviting their community to make the most of the season with their outdoor and summer toys. Since many will want to beat the heat, the company expects a great deal of interest in any toy or accessory that has to do with water, but this represents only a fraction of ToyShop's offerings. Customers are invited to check out the ToyShop website or contact their representatives directly to learn more.
With the summer peak and its hottest days still on the horizon, the store understands that many will spend every moment they can in the nearest pool or at the beach. This is particularly notable given that the region is known for being both hot and dry during this season. While taking a dip in the pool may be enjoyable all by itself, ToyShop believes that the right toy or accessory can elevate the experience, and they are pleased to have virtually every item a customer could want in their store.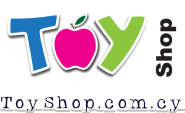 To begin with, the store's range of inflatables give users a way to lounge in the water without ever dipping below the waterline or having to leave the bounds of the pool. From floating lounges that can accommodate several people at once to single-user mats, ToyShop has a variety of inflatables that can turn any pool into a party (or enhance the relaxation it offers). ToyShop also has electric pumps that make filling up an inflatable a swift, effortless process. Those with small children can also make sure their little ones can join in the fun — ToyShop recommends that parents take a look at their play pools. Similarly, customers can find beach balls, inflatable games, snorkel sets and more at ToyShop. All of these products come in a variety of colours, shapes and sizes as well.
On the other hand, it is not always easy to carve out time to spend at the pool or beach, and some may simply prefer to go to their nearest park on a sunny day. Fortunately, ToyShop also has a lot to offer here. Children, for instance, may enjoy taking one of the store's colourful scooters, bikes or other outdoor toys for a ride as their parents walk around (and keep an eye on them). Should they need to stay at home, fixing a basketball hoop nearby might also be a fun distraction. Again, ToyShop's inventory has something for the little ones — parents may find it easier to keep small children in one place if they put up a slide or hand them a truck set to play with in the sand. ToyShop also has a variety of miniature cars that they can ride in which are sturdy enough to protect from minor crashes yet not so fast that they would be difficult to catch if necessary.
ToyShop enjoys a great reputation among their customers. Earning a top rating on several platforms, people who visit their store tend to praise the variety of toys and other items they offer, especially since ToyShop makes an effort to ensure their inventory accommodates a wide range of budgets. Regardless of whether a customer is in need of a large gift for an important birthday or a small token for minor events, ToyShop has something for everyone.
Notably, many customers may find it easier or more convenient to look for their next purchase by visiting the store's official website where a full breakdown of their inventory is available (along with all necessary details, including stock availability, dimensions, price and so on). Each toy description also comes with an age rating that makes it easy for parents to estimate whether it is suitable for the child in question. Inquiries may be directed to the store via the website's built-in chat functionality as well.
Alternatively, customers are welcome to visit ToyShop store to speak with a member of their friendly staff. Here, parents and other individuals may ask as many questions as they want, including recommendations based on the child's preferences, age and other factors. ToyShop prides themselves in having knowledgeable staff who are keen to help out wherever possible, so parents need not ever feel as if they are out of their depth. With ToyShop's help, they can find the perfect toy for their little one.
ToyShop welcomes all inquiries from their customers, and they look forward to helping Cyprus have fun this summer. Interested parties may keep abreast of the store's latest toys and promotions by following them on Facebook.
###
For more information about ToyShop, contact the company here:

ToyShop
Paul Theodorou
+357 22424210
info@toyshop.com.cy
Archiepiskopou Makariou III 80, Anageia 2640, Cyprus