Jaydens Party Rentals Offers Party Rental Services in Delaware
March 28, 2022 at 23:25
Jaydens Party Rentals, a company based in Georgetown, DE, is happy to announce that they are offering party rentals in Sussex County and all over Delaware. Available rental services include: bounce house rentals; water slide rentals; rentals for tents, tables and chairs; and bounce and slide combo rentals. Included in the rental services are: set up and take down; thorough cleaning of all equipment; availability of trained and professional staff from booking to the take down of the party rental equipment; and on-time free delivery guarantee.
There are a number of factors that make Jaydens Party Rentals stand out among other party rental services in Delaware. These include the fact that they are: family owned and operated; offer of the safest and cleanest party rental equipment in Delaware; exceptional customer service; and provision of best stay-at-home fun.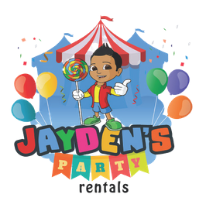 Kids love bounce houses because these are places where they can let go because parents tend to limit the amount of jumping around that children do for fear that they might hurt themselves. When kids go inside a bounce house, the restrictions get lifted and the kids can jump around as much as they want. And while adults just want to rest, kids are so full of energy that they hate sleeping and resting. With bounce houses, the children can expend a lot of their energy with parents not having to worry about their getting hurt.
They want to point out that one of best ways to have fun this summer is through bounce houses. There are a number of available options, such as the: Bounce Castle; Frozen Bounce House; Disney Mickey and Friends bounce house; Sponge Bob bounce house; and Disney Princess bounce house. Available water slides include the: Water Slide Slippery Slide; USA Boxing Slide; Ice Pops Water Slide; Melting Arctic Water Slide; 5 in 1 combo; I'mperfectly 19 Ft Slide; and Thunder 19 Ft Slide.
Also available through Jaydens Party Rentals are Bounce & Slide combo rentals for children who want to have fun all day. Their available bounce and slide combo bounce houses in Delaware offer a range of fun activities to be done in one bounce house. These include a bounce area, slide, basketball hoop, and easy to climb wall. Those who are interested in learning more about Jaydens Party Rentals can check out their Facebook page at https://www.facebook.com/Jaydenspartyrentals/.
Party game equipment are also available. One example is the Giant Connect 4 game, which is a large version of the two-player connection board game where the players choose colors and take turns in dropping colored tokens into a six-row, seven-column vertically suspended grid. The first player to form a vertical, horizontal, or diagonal line of four of one's tokens wins the game. Another game equipment available is the corn hole board. This is a lawn game in which two teams of players compete. The players take turns in throwing 16-ounce bean bags at the corn hole board with a hole in the far end. If the player manages to let a bag go through the hole, the score is 3 points, while a bag on the board gets 1 point. The first team to reach or exceed the score of 21 wins.
And, of course, Jaydens Party Rentals also provides rentals for tents, tables and chairs for parties and other special events. These include the: 20 x 40 tent; 20 x 20 high peak frame tent; 20 x 20 tent; 6 x 3 tables; and chairs.
Founded in 2016, Jaydens Party Rentals is a family-owned business that was named after the owner's son, Jayden. The company's mission is to offer quality but affordable equipment for parties and other important occasions and events all over Sussex County and in Delaware. They always strive to go the extra mile for ensure that the customer's event becomes an unforgettable one.
https://www.youtube.com/shorts/nY5bB8H-hNI
Those who are interested in learning more about the party rental services offered by Jaydens Party Rentals can check out their website at https://jaydenspartyrentals.com/, or contact them on the phone or through email.
###
For more information about Jaydens Party Rentals, contact the company here:

Jaydens Party Rentals
Jonathan Rodriguez
(302) 569-2055
jaydenspartyrentals@outlook.com
118 N Race St,
Georgetown, DE 19947