Full Range Of Party Rentals Available From Ascension Party Rentals in Gonzales, LA
May 01, 2023 at 16:15
Ascension Party Rentals LLC is pleased to share that its full inventory of party rentals is now available for all customers and events in Gonzales, LA, and surrounding communities. Those interested in learning more about the company or scheduling delivery are encouraged to view the official website at https://www.ascensionpartyrentals.com/.
Parents, professional party organizers, and even managers who wish to show their appreciation to their team will find virtually everything they need with Ascension Party Rentals. Among the company's most popular options, new customers will discover all kinds of tents, combos, obstacle courses, and water slides, and each of these categories boasts numerous rentals to choose from. The dry combos alone, for instance, feature more than 20 options, including tanks, fire stations, fairytale castles, tractors, and more. Those looking to beat the heat will find they are spoiled for choice here as well. The company offers a number of water slides in imaginative shapes and colors, featuring gigantic dinosaurs, dainty mermaids, and more.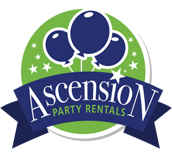 Parties and celebrations do not always cater to children, however, and the company is aware of this. As such, those looking for more subtle options will find everything they need to host a gathering as well, from tents in various sizes to dance flooring, tables, chairs, generators, lights, and so on. The company invites customers to call the office directly if they are looking for specific items.
Ascension Party Rentals has worked hard to ensure customers can make the most of the company's rentals. The team arrives on time, sets up with minimal hassle, and then arrives after the event to pack up, and there is virtually nothing else the customer has to worry about once their booking has been made.
The company points out that there are certain safety concerns that need to be accommodated while a rental, such as a bounce house, is being operated, but each rental is designed expressly to make this aspect as seamless as possible. Typically, the company comments, common sense is enough to keep guests safe while they enjoy themselves, and the customer need not shift their focus away from the party and having a good time. Additional information about the company can be viewed on its official Facebook profile at https://www.facebook.com/AscensionPartyRentals.
Notably, the company clarifies that each customer does receive a safety briefing before the Ascension team departs. Should the customer have any concerns that may not be addressed during this briefing, they are welcome to call the Ascension office directly (either during the event or prior to making a booking).
Most will be able to get some idea of what it is like to work with the company by looking up what other customers have to say about their own experiences. Ascension Party Rentals is known for the incredible variety of options it offers, and this is backed up by a deeply personal service and timely, responsive communication and delivery.
"They have a great selection of inflatables to choose from," comments Nicole B. in her review, adding that the company also offers, "great prices, great customer service, great delivery/pick up team! This company was super easy to work with, they had a great special going on(overnight for free), and we didn't have to worry about a thing once we made our order. They delivered our inflatable and set it all up for us, then came back the next day to break it all down and pack it back up. We didn't have to do anything, it was wonderful! Thanks for making our son's birthday party so fun for him and so easy for us."
Other customers report enjoying their time with Ascension Party Rentals so much that they express a desire to come back when they have to plan another event in the future. In fact, many share that they have already booked rentals again after their initial experience — with similarly exceptional outcomes. For their part, the company states that the team strives to be consistent across the board, and this helps boost every customer's confidence in the services being offered.
"Ascension Party Rentals," says Brandi B., "was the easiest and most helpful company to work with! Their website is organized and detailed, so I could find exactly what I was looking for. The manager reached out and was able to provide options and recommendations for our party needs. Their team sent time ranges for drop off and pick up and were right on time! All the kids had a blast! We will use them again soon!" The company is proud of the reputation it has built with the community. Hundreds of reviews from happy customers can be found here at https://g.page/AscensionPartyRentals?share.
Bookings can be made via the company's official website. Customers are welcome to call Ascension Party Rentals LLC directly as well if they would like to discuss their needs for an upcoming event. The company will be pleased to make recommendations if requested.
###
For more information about Ascension Party Rentals LLC, contact the company here:

Ascension Party Rentals LLC
Austin Watts
(225) 744-4500
austin@ascensionpartyrentals.com
37505 LA-74, Gonzales LA 70737